8. Computer controlled machining¶
Class¶
Assignment¶
group assignment:
test runout, alignment, speeds, feeds, and toolpaths for your machine
individual assignment:
make (design+mill+assemble) something big
Previous year¶
Assesment¶
Learning outcomes¶
Demonstrate 2D design development for CNC production
Describe workflows for CNC production
Have you?¶
Explained how you made your files for machining (2D or 3D)
Shown how you made something BIG (setting up the machine, using fixings, testing joints, adjusting feeds and speeds, depth of cut etc)
Described problems and how you fixed them
Included your design files and 'hero shot' photos of final object
FAQ¶
How big is big?
Answer: Big enough to show you understand many of the possibilities of CNC machining - drill, pocket, dogbones, nesting, etc.
Does it have to be wood or wood products?
Answer: No. But the lab is only responsible for providing you with a full size wood board.
Schedule¶
3/14(土)
local session

デザイン
ソフト VCurve or Cut2Dの使い方

3/15(日)
新横浜8:21-(ひかり503)-9:27浜松9:43-(東海道本線)-9:48高塚 -> 北口ロータリー
東京8:03---------------9:27浜松
材料は当日ホームセンターカインズホーム(雄踏店)に買いに行く

本館 9:00~20:00
資材館 7:00~20:00
3x6板 x2(group用,individual用)

ソフト
CNC
hamamatsu students
Endmill¶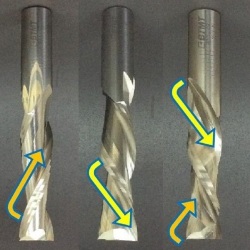 ※写真は左から「アップカット」「ダウンカット」「アップ+ダウンカット」
ref.BTMT - Upcut - Downcut - Compression(Up and Down cut)
-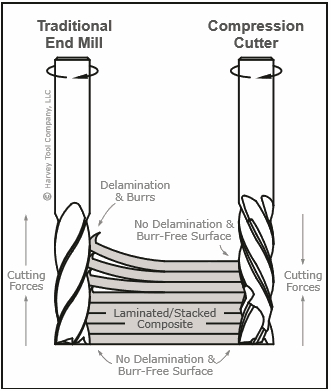 - CONVENTIONAL MILLING VS. CLIMB MILLING - Climb Milling Vs. Conventional Milling: 12 Key Differences Machinists Must Know - COMPRESSION CUTTER FOR COMPOSITES
- ref.[THE CORRECT WAY TO SETUP A COMPRESSION END MILL](https://www.stepcraft.us/blog/blog-1/post/the-correct-way-to-setup-a-compression-end-mill-8)



ref.misumi - Monotaro:コーティング
my endmill¶
Shank Diameter: 6.35mm(1/4in)
Shaper

1/4" Up-Spiral Router Bit
1/8" Up-Spiral Router Bit
Engraving Router Bit 60°

ONSRUD

TOOLS.GR

Shank Diameter: 6mm
corret¶
3x6板 910mmx1820mm
Group Assignment 1枚、individual Assignment 1枚
個体差がある(2枚が同じ厚みとは限らない)購入時に測る?ノギス持参?
To Do¶
Safety¶
glasses, shoes, clothes, hair, gloves
関内にあるものは持っていく
group assignment¶
CNCの特性を知る
ref.oshanghai 2019
runout

回転体の半径方向の振れ > エンドミルの振れ
刃径6mm vs 削り跡の幅
軸がぶれていると大きくなる

alignment

度、向き、位置など機械構造の歪み
四角を切って、対辺が平行か、直角かを測る

speeds

主軸速度(rpm)
ディフォルト:12,000rpm(TechShop)
10,000-12,000-14,000 rpm
深さ(刃径と同じ)、速度固定で、rpmを変えて比較する

feed rate

送り速度(mm/s)
ディフォルト:1in/s(TechShop)
17-25-50? mm/s
深さ(刃径と同じ)、rpm固定(上記)で速度を変える

toolpath
Tolerance

交差 > kerf, offset
comb
板厚:パラメトリック(測定値、カタログ値は参考のみ)
スリット:オフセットを求める
individual assignment¶
Design
2D, 2.5D
parametric
joint
V-bit engrave
Prototyping
laser cut

設計15mm厚 > 3mm厚(=1/5 Scale)

Cut
Air cut
Assemble
sanding
(# Useful Links¶
Next week¶
Monday Recitation 23:00-24:00
debugging
Tuesday Asian Regional Review 12:00 & 21:00
12:00-: zoon http://fab.academany.org/2020/video.html
21:00-: zoom or bluejeans Bluejeans.com/u/fablab/1248
Wendnesday Class 22:00-1:00
Embedded Programming
assignment
group assignment:
read a microcontroller data sheet program your board to do something,
with as many different programming languages
and programming environments as possible
individual assignment:
compare the performance and development workflows for other architectures